PAST
Born into a happy family, supported to attend kindergarten, primary school and secondary school. Left home at 15 to live in supported accommodation, with limited access to social, educational, vocational, and recreational opportunities.
Day Program
Recreation
A HAPPY BLAST from the PAST
Luke was living in NSW - supported by a small group of "friends" from Feb 2010 until June 2012
It started as a dream ...
A country homestead on 10 acres covered with old gum trees full of birds, surrounded by vast fields of wheat and rice crops
A beautiful river with sandy beaches, old red gum trees and a vast expansive national park.
A guest house less than than 100m from the homestead
A small town full of people who care.

with -
It took a lot of effort, and the good will and generous hearts of a few good people, who weathered the storms that came with the transition, but ...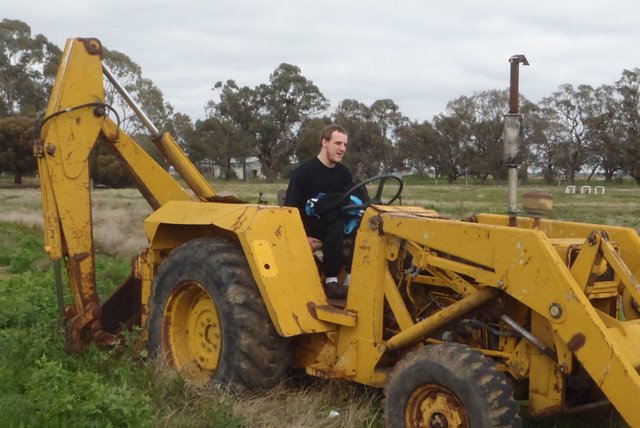 ... on the road to recovery
We were happy to report that Luke was now living Happy and Well.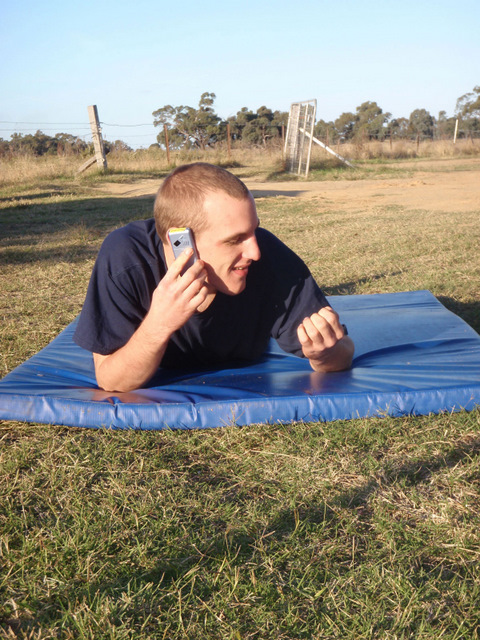 ... talking to mum on his own mobile phone.
CURRENT
Stay in Touch via FACEBOOK - Just for Luke
Luke is being supported by a small group of people to do what's normal for a young man living in the country. With the right supports in place he is happy - doing the things he loves - walking, cycling, singing, painting ...Luke is living in his own home, closer to home, on a small farm, near Bendigo.
Recent News (Refer Facebook for the latest) -
November 3, 2015 - On this day, 27 years ago - Luke's best friend - Ash Werner was born. We miss you Ash. Wish you were here.

October 1, 2015 - Luke gets to stay in his home (Link to story in Bendigo Advertiser)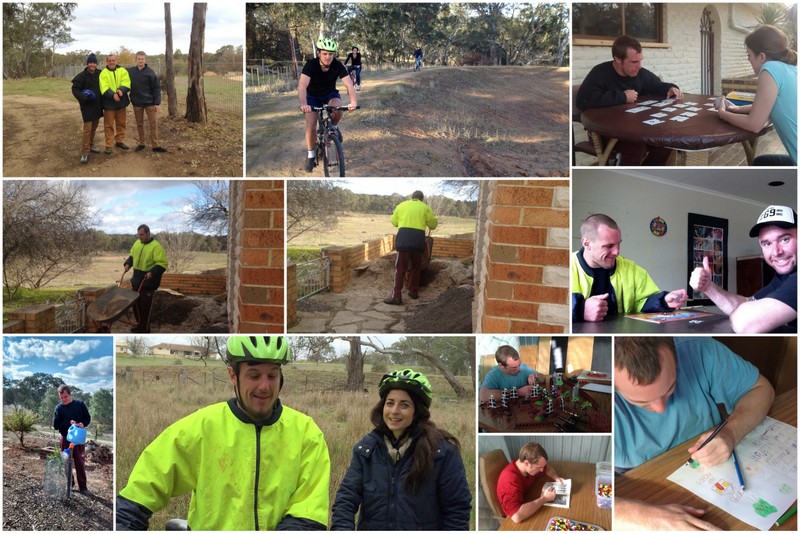 In February 2015 we changed to a new system of supports that relies on professional support for Luke, his family and those who provide Luke with direct support. We have no staff - only family and friends (some of whom are paid). The fundamentals for what we do come from the MANDT SYSTEM.
In this place and with these people - I am safe
Disability Support funds from government cover only part of the cost of caring for Luke.
Over the years Luke's family has forked out many tens of thousands of dollars to top-up the funds coming from DHHS. More recently - changes to workers compensation and other requirements has forced up the cost of basic wages and the need for specialist supports. A recent appeal to DHHS for an increase in funding to cover just the basic cost of worker wages was denied. The family has had to draw down on its own resources to pay worker wages for recent weeks and has decided that it cannot continue to do so.
DHHS has told the family that it in the process of organising a new place to live, with a new team of support workers, to work within the current budget (which the family believes is impossible) and that it will be ready to move Luke to that location on or before October 1, 2015 we can convince the Victorian Government to give immediate approval of an increase to Luke's ISP (Individualised Support Package).
Even if that was to occur today - the family still faces the challenge of finding money to pay the wages for the next few weeks, or doing all of the supports by themselves, and on their own.
If you would like a donation directly to the bank account that the family uses to supplement the funds provided by DHHS you can use this PAYPAL button to make a donation.
* Clicking on the DONATE button will take you to https:/www.paypal.com - and a donations form showing recipient as MARK MODRA with purpose listed as "Donations - in Trust for Luke" and a reference "D-ITFL"
If you have any questions - please contact us via admin@justforluke.com.
VERY NEAR FUTURE
HAPPY & SAFE, living in his own home close to home, with friends, participating in life as a much loved and respected member of his local community.
Something to DO
Places to GO
Friends
Places to Go -
A holiday by the beach - nice idea - but currently something that is very difficult to organise. We had hoped to do this in November, 2015 but could not raise enough money to make it happen. The trip - which was to be the first trip to the beach in 11 years - was cancelled. Even so, the idea remains - a dream - www.gofundme.com/holidayforluke
Friends -